dingledangle designs - Alison's handmade bags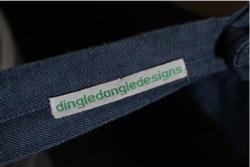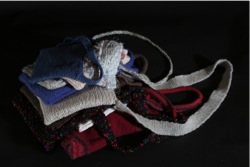 Much of the fabric Alison uses is recycled, having started life as garments, soft furnishings or offcuts sourced from all over the country. She creates unique bags for all occasions, which are a mixture of contemporary and retro in feel. She has been making her dingledangledesigns bags since 2005, starting when a few people saw her carrying own bags and asked if she could make some for them. Her knitted bags are often also made from vintage wools.
Very often the size and style of the bag is suggested by the fabric used, and no two are identical.
She sells ready made bags at local craft fairs and makes bespoke bags to order. These can be designed to co-ordinate with different outfits, for work, casual or evening wear.
She also makes pouches for ipods and mobile phones from such things as old silk ties.