Trevor RA Dingle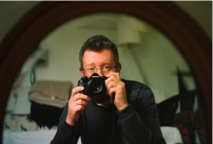 About Trevor
I was born in South Yorkshire in 1969, and have painted and taken photographs for almost as long as I can remember, I began painting in oils and had my first photographs in an exhibition when I was still at school. I studied in Leicester, worked on an archaeological dig and then moved to Hull in 1991 and Beverley in 2005. I began painting in acrylics in 2001, enjoying the way the paints can be used in so many different ways, as a thin film to create seascapes, or thickly applied to produce texture. My work is inspired by nature, the sea, the land, small details and the interplay of light and shadow. I also look for simple designs man has left over the centuries from rock art to the VW Beetle. I often incorporate natural materials into the paint, using sand from the coast, seaweed and fallen leaves. These textured works are often large, but done in small sections before the paste sets then painted with acrylics. My love of black and white photography, and a stormy day on the French coast inspired my recent black and white paintings. The sea features in a lot of my work, I often simply look out to sea and photograph or sketch the colours of the sea and sky. The light falling on the hills of the Peak District and Lakes, as well as the coasts of England and France inspire my landscape photography, where I use a mixture of medium format transparency film and digital capture. My more abstract works tend to come from within and are reflections on thoughts and history, and can often come from quite brief notes, developing as I work. I often use watercolour for sketches, but recently have developed this into smaller more accessible works, painting the coast and exploring the overlooked landscape of the Yorkshire Wolds near where I now live.
2018
Pinhole Pumpkin selected for the Ferens Open, Hull.
2016/2017
The Virgin of Walthmastow II accepted at East Riding Open, Beverley
Ring of Light selected for the Ferens Open, Hull
During 2016 & 2017 two short films selected and screened in events in Sheffield, Leeds, Huddersfield and Italy.

The Virgin of Walthamstow shortlisted at the RA Summer Exhibition.

2015

Two works selected for the Ferens Open Exhibition, Ferens Gallery, Hull. He sold a view of Beverley Minster through reeds.

Shortlisted for the RPS 158th Annual Exhibtion, but not one of the lucky 100 or so chosen to be hung.

2011/13

The emphasis on photography has paid off, having works, mainly in black and white, selected for exhibtion at the Diemar Noble Gallery, Wells Street, London W1 and shortlisted by the Royal Academy and RPS.


2010/11

Concentrating more on photography, including still life and food photography. He is also working on a new series of collages using recycled materials.

2008

Trevor's photographic eco-friendly greetings cards printed on recycled card are now on sale at Waterstone's Bookshop, Jameson Street, Hull.

dinglecreative were at the first Artlink Art and Craft Fair, Prince's Avenue, Hull on 23rd August 2008.

As part of Hull Contemporary Artists August 2008 exhibition, Trevor had a painting in acrylic with a relaxed feel entitled 'Summer Evening' on show at Pave Cafe Bar, Princes Avenue, Hull.

Trevor had a print entitled Sheffield after Dark on show at the Biennial Open Printmaking Exhibition, Ropewalk Contemporary Arts Gallery, Barton upon Humber, Lincolnshire.

Trevor helped organise and curate Hull Contemporary Artists temporary gallery in Prince's Quay Shopping Centre, Hull.

See one of Trevor's black and white watercolours on the cover of Beverley Writers Anthology, along with some of his prose and poetry, published by Beverley Writers which went on sale at Waterstone's, Jameson Street, Hull.

Trevor took part in the East Riding Open Studios event over two weekends in October, when the event was in its third year.